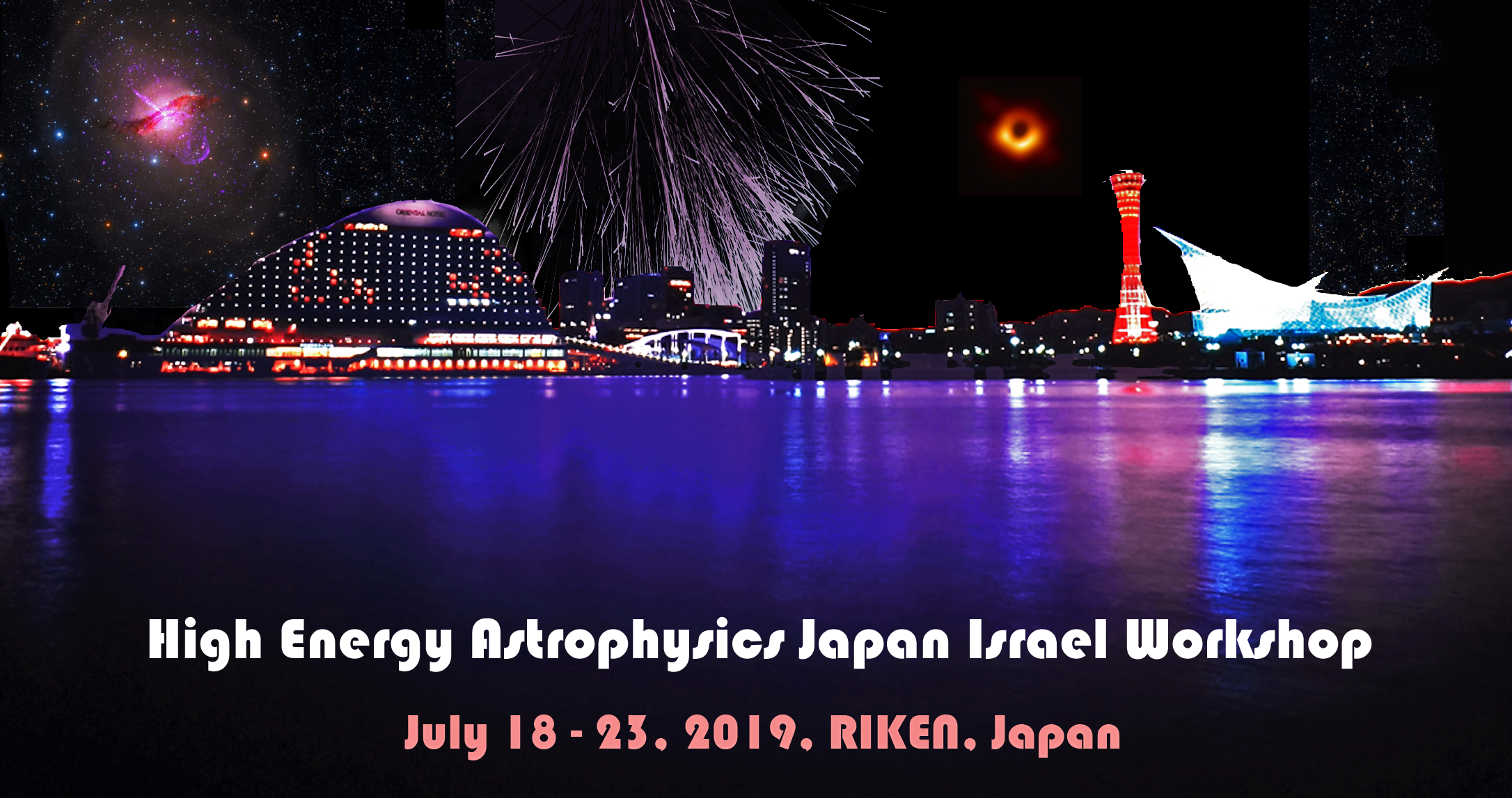 We are pleased to announce an international workshop on high energy astrophysics. The main topics of the workshop are listed below, although the workshop is not restricted to those. We aim to cover a wide field of astrophysical research.
1. Relativistic jets formation and collimation: status of theory and numerical simulations
2. Nucleosynthesis and electromagnetic counterparts of neutron-star mergers
3. High energy astrophysical flares (gamma-ray bursts, AGNs) and their possible neutrino counterparts
4. Astrophysical shocks and ultra-high energy cosmic-rays: a long standing puzzle
The aim of the workshop is to bring together experts on various topics of high energy astrophysics from Japan and Israel for active discussions and to initiate possible collaborations among the participants. The workshop will be held at RIKEN Wako campus (first week, July 18th and 19th) and RIKEN Kobe campus (second week, July 22nd and 23rd).
Please enjoy your visit at RIKEN, Japan. We are looking forward to seeing you in July!
On behalf of Organizers, Hirotaka Ito (Chair), Noemie Globus (Co-Chair), Shigehiro Nagataki
Invited guest speaker
Roger Blandford (Stanford U.)
Invited speakers from Israel
Omer Bromberg (Tel Aviv U.)

Chi-Ho Chan (Hebrew U.)

David Eichler (Ben-Gurion U.)

Ramandeep Gill (The Open University of Israel)

Ore Gottlieb (Tel Aviv U.)

Jonathan Granot (The Open University of Israel)

Christopher Irwin (Tel Aviv U.)

Uri Keshet (Ben-Gurion U.)

Amir Levinson (Tel Aviv U.)

Tatsuya Matsumoto (Hebrew U.)

Asaf Pe'er (Bar-Ilan U.)

Tsvi Piran (Hebrew U.)

Nir Shaviv (Hebrew U.)
Invited speakers from Japan
Katsuaki Asano (ICRR)

Yutaka Fujita (Osaka U.)

Hamidani Hamid (Kyoto U.)

Kazumi Kashiyama (U. Tokyo)

Kyohei Kawaguchi (ICRR)

Norita Kawanaka (Kyoto U.)

Shota Kisaka (Tohoku U.)

Koutarou Kyutoku (Kyoto U.)

Jin Matsumoto (Fukuoka U.)

Akihiro Suzuki (NAOJ)

Kazuya Takahashi (Kyoto U.)

Kentaro Takami (Kobe City College of Technology)

Kenji Toma (Tohoku U.)

Ryo Yamazaki (Aoyama Gakuin U.)
Key note speakers
Noemie Globus (New York U.)

Haoning He (RIKEN)

Nagisa Hiroshima (RIKEN)

Yongjia Huang (RIKEN)

Susumu Inoue (RIKEN)

Yoshiyuki Inoue (RIKEN)

Hirotaka Ito (RIKEN)

Oliver Just (RIKEN)

Akira Mizuta (RIKEN)

Shigehiro Nagataki (RIKEN)

Donald Warren (RIKEN)
Dates for workshop:
from 18 July 2019 to 23 July 2019
Timezone:

Asia/Tokyo

Location:


Okochi Hall (Wako Campus, RIKEN)    
   2-1 Hirosawa, Wako, Saitama 351-0198, Japan 
Integrated Innovative Building (IIB) (Kobe Campus East Area, RIKEN)    
   6-7-3 Minatojima-minamimachi, Chuo-ku, Kobe, Hyogo 650-0047, Japan  



Organizers:

Hirotaka Ito (Chair), Noemie Globus (Co-Chair), Shigehiro Nagataki, Masaomi Ono, Gilles Ferrand, Masanori Arakawa, Yuki Takei, Akira Mizuta, Donald C. Warren, Oliver Just, Haoning He, Susumu Inoue, Yongjia Haung